Tripawds is a user-supported community. Thank you for your support!
Boone truly had a sense of humor when he chose Tornado Tuck for us. I guess he thought I wasn't getting nearly enough exercise so he sent us a dog that LOVES agility.
I've been in dog sports my whole life but never gave agility a try. 'Til now.
Tuck is truly in his happy place every week at class. We're bonding even more and he keeps me humble when he suddenly decides sniffing and zoomies are much more entertaining than obstacles.
This past weekend we participated in an Agility Course Test. For those in the dog sports world, it's kind of like the CGC for agility. We had to have two qualifying runs in each level (ACT 1 and ACT 2) to earn the titles, and I'm thrilled (and actually a little surprised) that we managed to get both on Saturday.
Here's a shot of him at an agility run through last month (look at that smile). My instructor is using this image on her current Facebook promotion.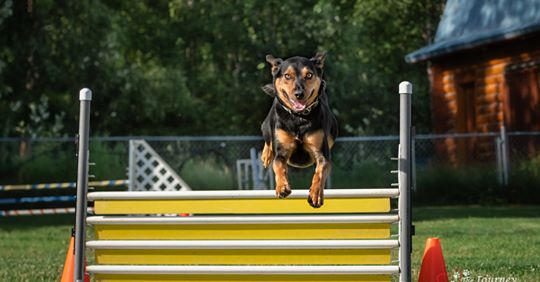 And here is a video from one of our ACT 2 runs. Thankfully we didn't film the second run, as crazy Tuck wiped out on the pause table. But he bounced back – uninjured – and we finished strong.
It's hard to imagine our lives without this little ball of energy.