Tripawds is a user-supported community. Thank you for your support!
Boone's 3 week and 1 day ampuversary is today and he celebrated by having 45 staples removed! Wahoo!! He was such an awesome and patient patient – giving us several tail thumps while Dr. Wilson searched through Boone's quickly growing hair to find all 45.
He decided digging for a rock or stick in the fresh snow was the way to top off his afternoon.
https://www.facebook.com/AKJeanette/videos/10211991449359978/
Saturday Boone decided he was streamlined enough without that front leg to fit through a small opening in a baby gate (propped up to keep him off the bed) and found his way onto our bed. Note to self: don't turn your back on an overachiever. I had to keep him there 'til my hubby came in to help him hop down.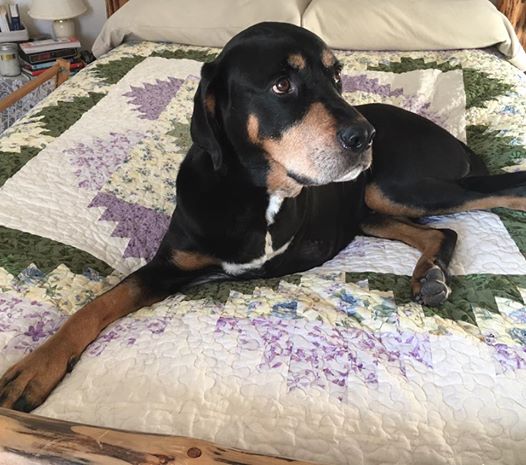 And our bad dog bundle showed his true colors by mooching at the table, while giving me the stink eye.
He knows how to melt my heart and keep me smilin' through this cancer journey.