Tripawds is a user-supported community. Thank you for your support!
Boone celebrated his 2-week ampiversary on Tuesday this week with a nice little hop, topped off with a "drag mom across the street to visit one of his favorite people." He was SO happy :-).
Unfortunately, his over exuberance resulted in a sore rear leg (on the amp side) so the rest of his week has been quiet. He seems better today, but I'm not taking any chances. He'll be resting 'til his staples come out on Wednesday.
He may not be able to hop right now, but that doesn't stop his tail from wagging.
https://www.facebook.com/AKJeanette/videos/10211926149127513/
Every day we're seeing glimpses of the old Boone that we know and love.
Last night I was taking clothes out of the dryer, while Boone rested on his ortho bed in the living room. I wasn't paying attention and one of the wool dryer balls bounced out and rolled across the floor. Boone was up like a shot and the dryer ball dash ensued. He was in heaven. And I was laughing and scrambling to grab a cookie to exchange for the dryer ball (we never taught Boone how to give up a toy – or what he thinks is a toy – without bribery).
After a rousing game of dryer ball dash, Boone decided belly rubs were in order.  It's so much easier to reach that belly from this angle without that pesky leg. It won't be long before he returns to adjusting the recliner with his head.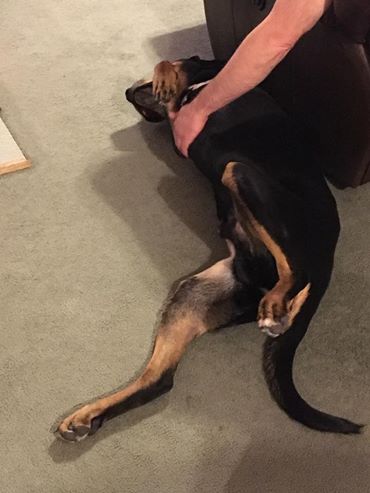 And this morning, to really let me know he was on the mend, Boone popped up from his resting place when he heard me prepping hubby's lunch. Apples are a favorite treat for our bad dog bundle, and he's always sat patiently (well, not really) while I peel and slice. Today was the first day in several weeks that he actually got up from his resting spot to wait for a slice or two.
I haven't posted about further cancer treatment, although some people have asked privately. We are not pursuing chemotherapy. Boone gets incredibly stressed going to the vet so we're opting for a holistic route with our wonderful vet that makes house calls. We'll keep him as happy and as comfortable as we can for whatever time he has left with us.
Thanks for cheering Boone along on his new journey. He send a virtual kiss and propeller tail wag :-).