Tripawds is a user-supported community. Thank you for your support!
As crazy Tuck (Boone's earthly sidekick) and I were walking in the fall colors yesterday, I realized it had been six months since Boone crossed the Bridge. I don't think a day goes by that I don't shed some tears missing that big, goofy boy, but I'm also laughing and smiling a lot more. And a lot of it has to do with the little big devil dog that Boone sent to us.
Boone's signals and signs have become fewer, but the ones he sends are powerful. Like this huge rainbow that appeared low to the ground at the end of our road one afternoon in August. I've never seen one this close to ground, this close to our home before. It reminded me that he and Lexi are romping and loving life at the Bridge.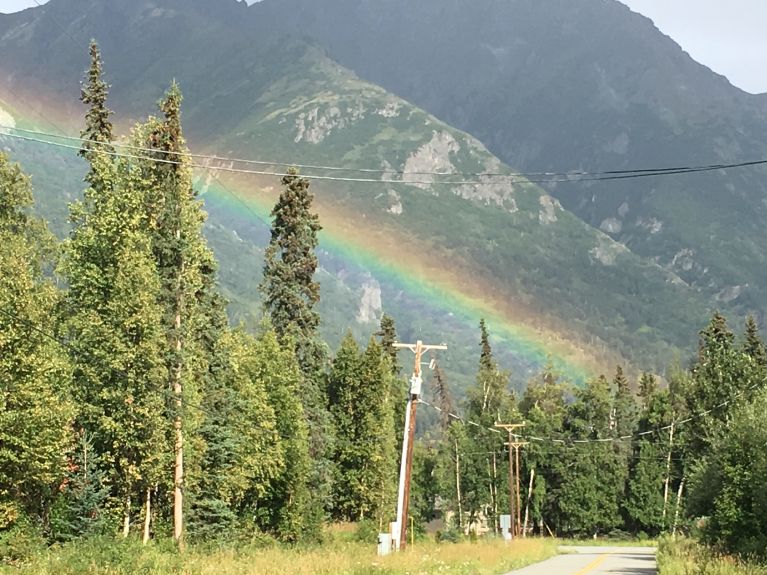 I think Boone had a very mischievous plan when he sent Tuck our way just two weeks after he passed. This little big dog has topped any and ALL bad dog things Boone EVER did! And you can bet Boone is just rolling with laughter at the Bridge. For example…
Tuck is pretty sure he's a mountain goat. Or maybe a bird on his big perch.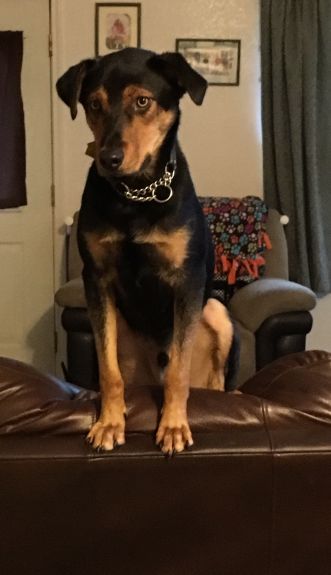 And yes, that's our antique chest/coffee table that Tuck is exploring. Notice my hubby isn't doing anything to discourage Tuck (but then neither am I).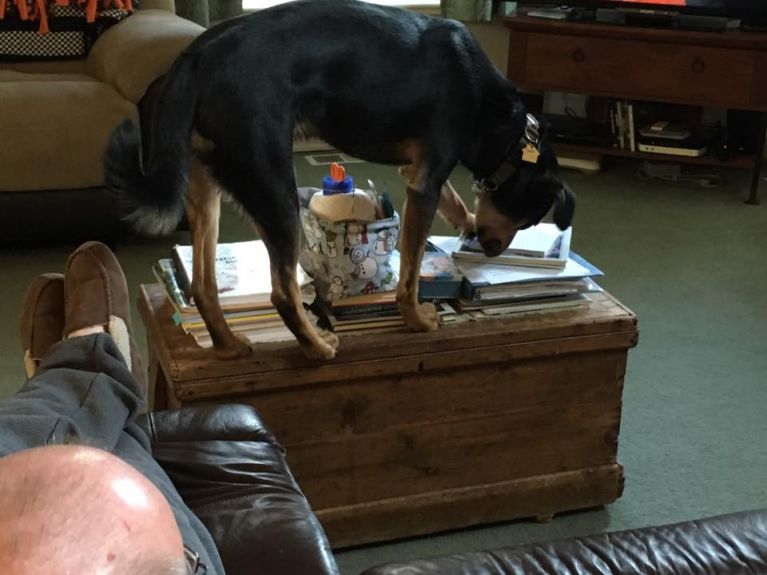 This was where Tuck ended up after squeezing his little body through the pet barrier in the back of my car. Which would have been fine except he learned how to shift the car from drive to neutral more than once on this trip!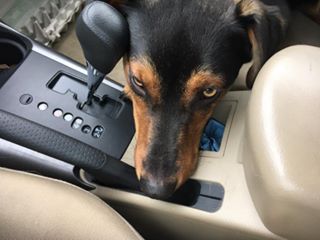 Boone was notorious for trying to eat money. Well, he must have whispered to Tuck how great money tastes. I walked back to my home office to wrap things up for the day and discovered this along with $12 on the floor. Ummm..Tuck?! At first I had a good laugh because I thought it was my hubby's that Tuck found on a counter. That is until I headed to a meeting the next morning, grabbed my purse and realized Boone's earthly sidekick had unsnapped the pocket with the money and pulled it out. Sigh.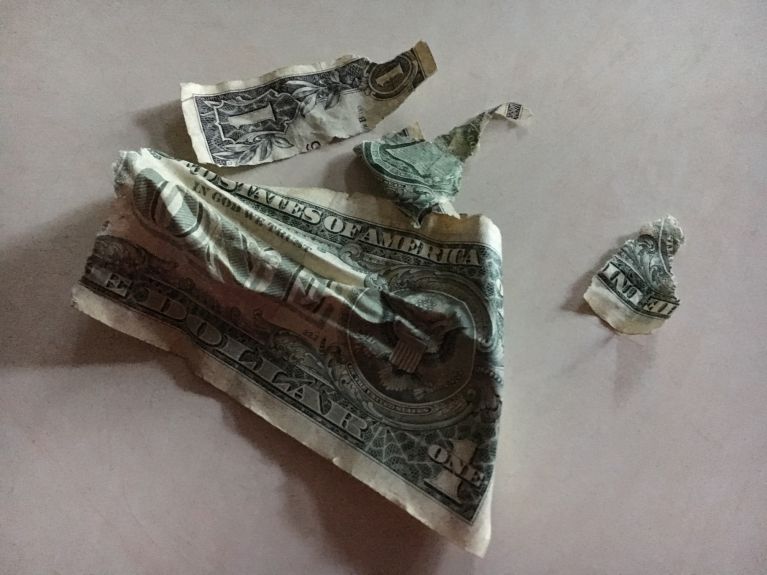 But then he switches from a little devil dog to an angel. How can you stay upset with this face?!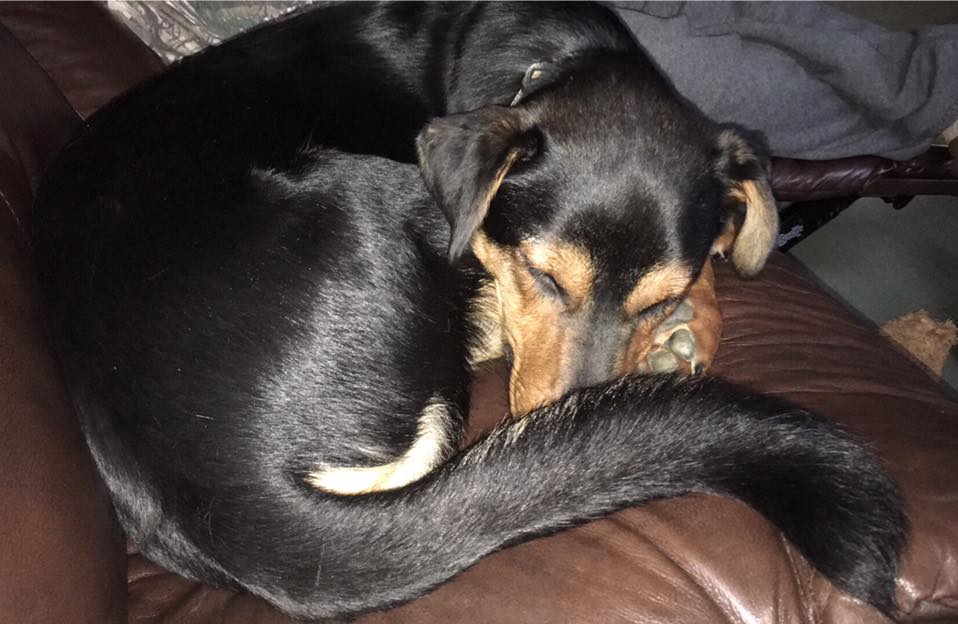 And my goodness did I have a good laugh when I walked past our bedroom door one morning and saw Tuck doing his best yoga pose.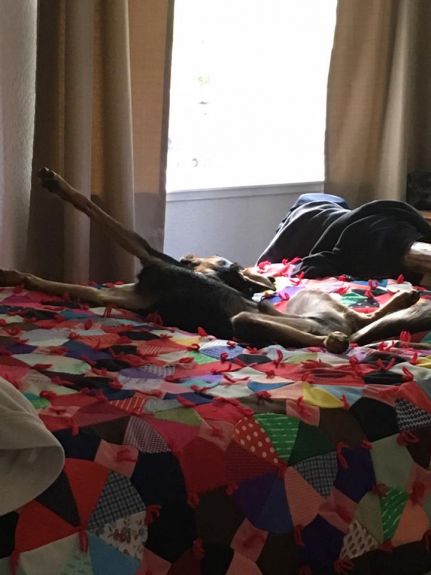 Tuck also knows (just as Boone did) when it's time for me to call it quits for the day.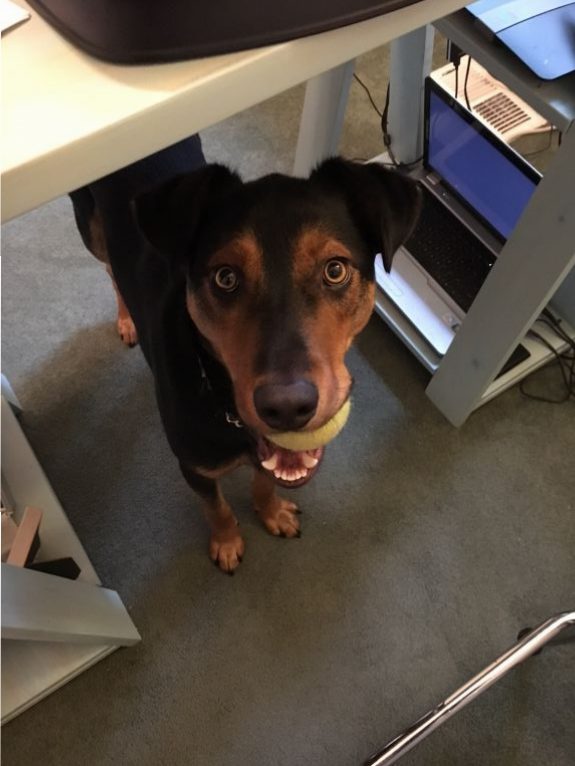 I'm so grateful for the 7 years we had with Boone. And am doubly grateful that my hubby "just happened" to see the post on our local rescue group of a little black and tan dog needing an urgent foster just two weeks after Boone left us. This little big devil dog has completely stolen our hearts and reminded us that it's ok to laugh and love again.
PS – we're starting agility in October. It's something I've always wanted to try and considering Tuck can leap from a sit straight up to his perch on the back of the couch, I think agility is going to come naturally to him. Now if I can get him to focus 😉